Does the day of the week end in a Y?  Then there's a good chance that we will have some ridiculous European paper headlines and gossip stories to fill the back pages for days. Instead of you having to spend tireless minutes searching the internet for all of your top rumours and transfer gossip, I figured I'd round them all up for you right here in one convenient location.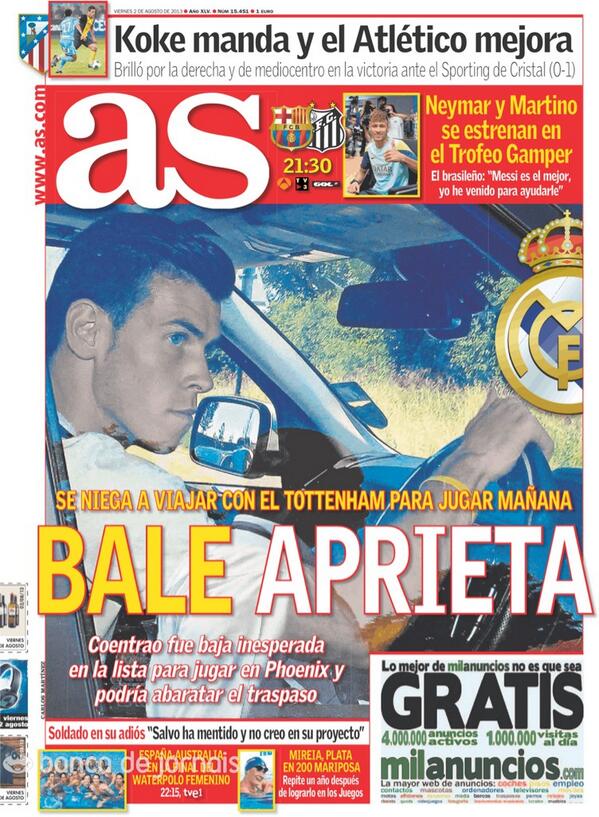 Basically what you need to take from this, for those of you who no hablo Espanyol, is that Bale is refusing to play in Tottenham's friendly match with Monaco tomorrow in a stance against his current club for not letting him move to Real Madrid.  Obviously, this being a Spanish newspaper, it means jack shit.
In additional Gareth Bale newspaper headlines, this one from the Mirror reports that a £105 million deal has been agreed upon, making Bale the most expensive player in football history.  It seems that this deal is indeed moving closer to completion, but pure speculation from the papers isn't convincing anyone just yet.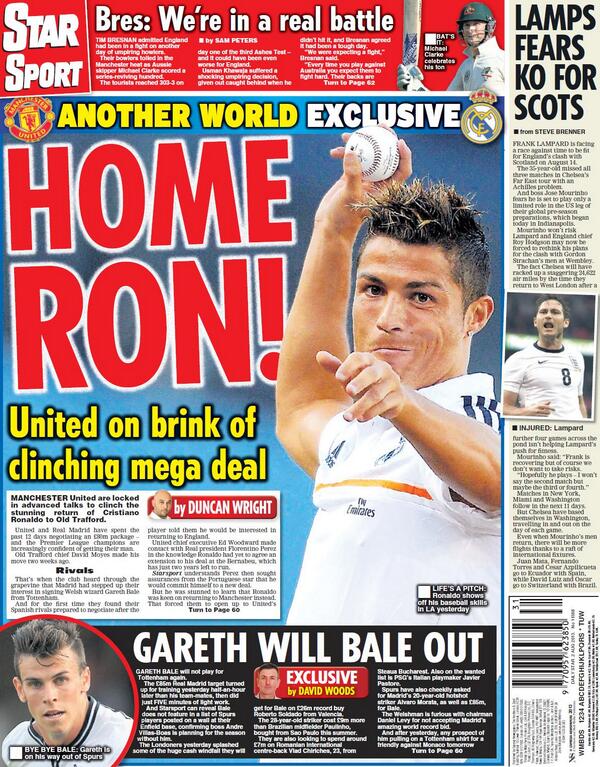 Using a cheeky play off of Ronaldo's recent display of horrible-athletic-ability-other-than-soccer, Star Sport is claiming that Real Madrid may use the funds from selling Ronaldo to Manchester United to help pay for Gareth Bale.  This almost seems plausible.  Gareth Bale would be a perfect replacement for Ronaldo, so talks may be heating up between Manchester and Madrid.  Odds are, though, that Madrid get their man and keep Ronaldo anyway and still manage to not win the Champions League.
And finally, in a story that has been relatively quiet this week, it is rumoured that Wayne Rooney will gauge the reaction of the Old Trafford faithful to determine whether or not to make a move out of Manchester.  United have two games coming up in the next week, one friendly on Wednesday and then Rio Ferdinand's testimonial three days later.  The idea that Rooney will leave or stay based on the fan's reaction to him is a seed planted by Jose Mourinho last week, and may or may not have some weight to it. Rooney will probably hear the jeers, and will be on his way out before the end of August.