Something crossed my mind this morning while I was doing my daily run-through of all internet footy news and rumours.  And that thought is that I think a lack of interesting and competitive club football is making us all crazy.
Now I know this happens every summer; with transfer rumours, international football, club teams doing world tours (see: Asia), and other non-league related football activities. But I think it's all starting to come to a head with only a couple weeks to go before kick-off of the EPL season.
Lately there have been a number of big name clubs and players being linked.  One of those stories I'm following with much interest is the saga of Cesc Fabregas going or not going to Manchester United.  All of the Barcelona people are saying there's "no chance that Fabregas goes to United"….."he wants to stay"….."Cesc is not for sale"…..etc.  Whereas on the Manchester side of things always sound optimistic: "Talks are on-going"……"we've put together another bid"….."Fabregas is looking for more first-team action"…etc.  And really, it's all just bullshit.  No one in the media, no fans, and probably even most of the players, have any idea where and what stages these types of talks are at.  I know they've gotta fill headlines and all, but can we just wait until something is final before spewing out all this shit?
So now, naturally, the latest headline out of Britain's Daily Mail is that there is another "breakthrough" in the Fabregas saga.  (Honestly, Homer could've turned this shit into an epic poem.)  Ian Ladyman (seriously!?) of said Daily Mail is now reporting that:
"Cesc Fabregas has told friends in English football that he wants to quit Barcelona for Manchester United… the fact that Fabregas has told friends in England that he wants out of the Nou Camp could finally give United the impetus they need."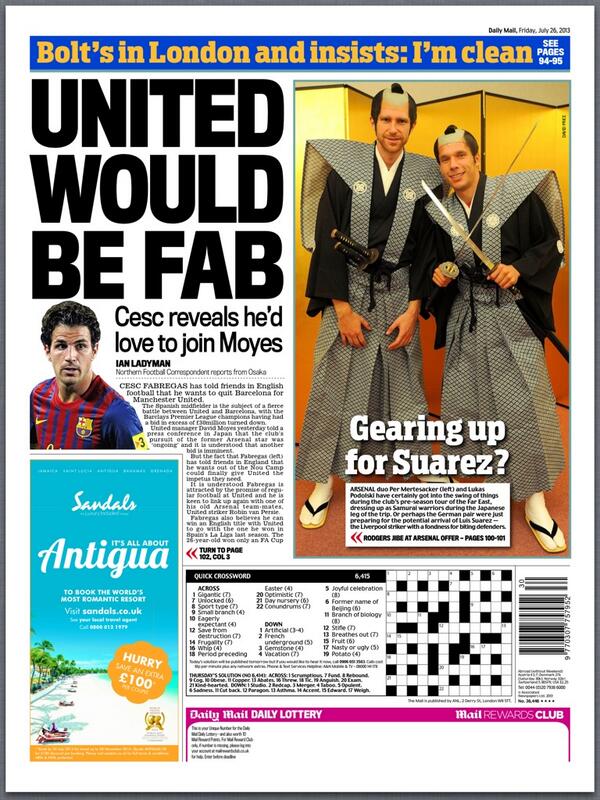 So now, we all come full circle.  Fabregas may or may not have ever said anything close to this, we don't know.  But it fills pages and creates shock-value headlines.  And to come even fuller-circler, LOOK AT THAT FUCKING PICTURE OF PER MERTESACKER AND LUKAS PODOLSKI.
Is it August 17th yet?