Chelsea beat Middlesbrough 2-0 last night in their 5th round FA Cup tie.  The game was decent and had a couple goals from Ramires and Victor Moses.  You can check out the full match highlights here.
HOWEVER, the real story here was the post match interview with Rafa Benitez.  The interim manager, emphasis on interim here, lost his cool after a string of questions regarding his relationship with the Chelsea fans and his future at the club, confirming he will leave the west London side at the end of the season.  Quite frankly, I'm surprised this didn't happen any sooner and I don't blame him at all.  Chelski owner Roman Ibramovich, in my opinion, is a shit head.  If the manager isn't winning the treble every year, he's fired.  Ever since the "chosen one", Jose Mourinho, Chelsea have had a string of managers that have lasted, at the most, 2 years with the club.  Mourinho left in 2007 and since then they have had EIGHT managers, the longest tenured coach being Carlo Ancelotti from June '09 – May '11.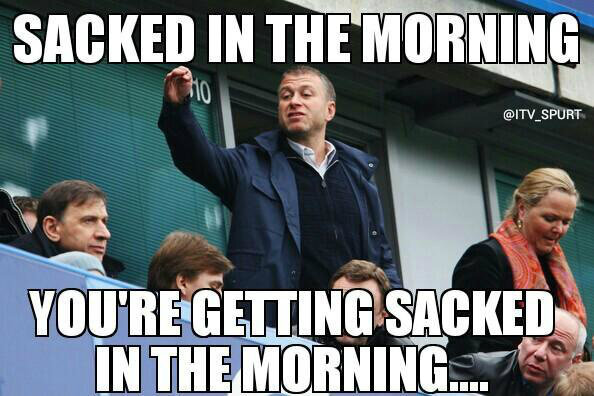 This is a disgrace.  How can you expect to get any type of consistency from your players without knowing who the hell is going to be drawing up the plays?  I appreciate Abramovich's win-only attitude, but c'mon.  Robert Di Mateo won the god damn Champions League out of nothing last year.  Nope, not good enough, you're fired.  Then he appoints Rafa Benitez as interim manager.  Basically this just gives Abramovich the go-ahead to fire him at just about any time for just about any reason, and in the rare case he does make it to the end of the season, he's still fired.  How can you expect any manager to feel comfortable in this situation?  Good for Rafa for lasting this long without blowing a fuse at the board.  See him fire off in the video below.
As for his go at the fans, good for him again.  He was never accepted from day one by the fans and the board, pretty impressive he's still got the club in the top 4.  I don't really blame the fans here for not liking him and giving him a ribbing at his first game, but get it out of your system and then try supporting your club.  The past is the past, he is a professional manager and he is trying to win for your club.
Chelsea is a joke.  Abramovich is a joke.  Buy as many Brazilians as you want, but if there is no order and leadership you're not going to win shit.  You can't win from the luxury booths 75ft above the pitch.
Rant over.
Oh yeah, and Everton beat Oldham the other day to make it to the quarters of the FA Cup.  They'll play Wigan on March 9th and Chelsea play Man United the next day and whatever….